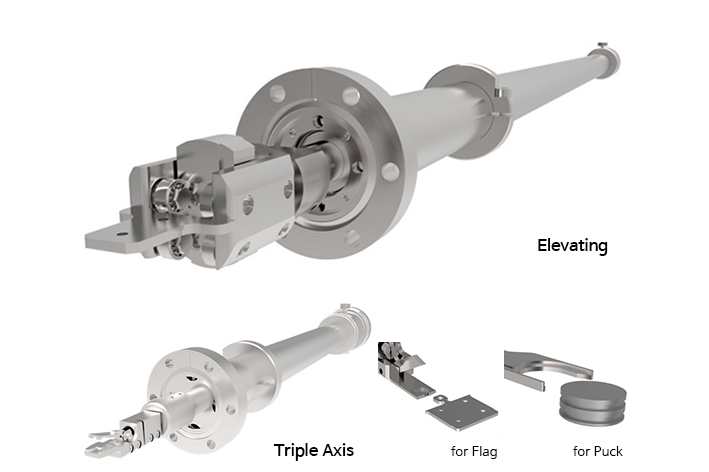 Exceptional performancePowerProbe
PowerProbe sample transfer arms enable secure transfer of samples within UHV. This is a consequence of their unrivalled magnetic coupling strength. In addition to linear and linear/rotary probes, this extensive range includes the Elevating PowerProbe and the Dual-Axis PowerProbe designed to transfer specific industry-standard sample holders using a variety of actuation methods.
KEY ADVANTAGES
Unrivalled axial coupling strength
Bakeable to 250℃ without removing any components
Exceptional axial stiffness
10x thrust and 4x torque compared to conventional devices
Zero backlash under low load

Magnetic Rotary DrivesMagiDrive
The production-proven MagiDrive range of rotary feedthroughs enables rotation to be transferred into a vacuum system using a stiff high flux magnetic coupling. With no bellows, fluids or dynamic seals, the MagiDrive range offers reliable and leak-tight UHV operation.

Magnetic Rotary Drives

KEY ADVANTAGES
Magnetically-coupled, fail safe design
Single piece vacuum enclosure ensures leak-free performance
No bellows, organics or sliding seals
Bakeable to 250℃ (including magnets)
High torque to size ratio
Zero backlash under low load and acceleration

Linear & XYZ Motion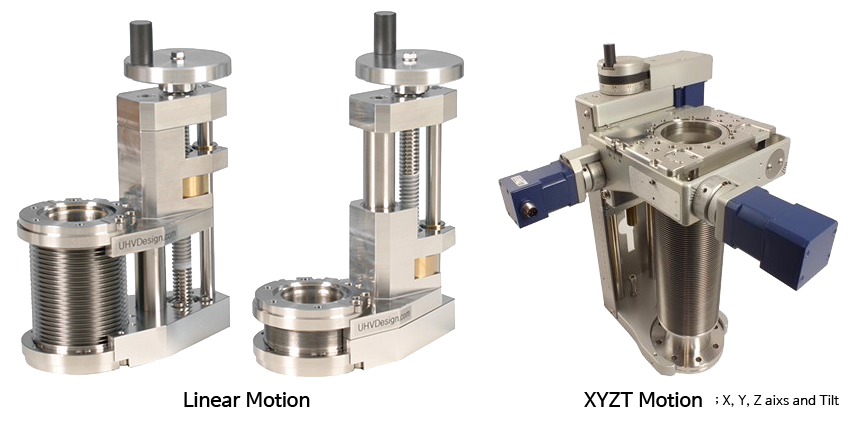 Linear Motion
Linear Shift Mechanisms (LSMs) provide linear motion along the port axis (Z). Typical applications include the positioning of beamline filters, adjustment of sputter sources and deposition stages through to production style applications.
Y,XY,XYZ and XYZT Motion
UHV Design provides a field-proven range of precise manipulators that can be used in isolation or combined with linear shift mechanisms and magnetically coupled rotary drives to build sophisticated manipulators with up to six axes of independent motion.
Linear Motion
Smooth kinematic motion
10,000 cycle lifetime guarantee (3 million cycle option)
Demountable bellows assembly
2x load-carrying capability of conventional designs
Bakeable to 250℃
Y, XY, XYZ and XYZT Motion
High precision kinematic drive and guidance system
High resolution performance